TV Bulletin Board (Aug. 7)
08/07/08 15:27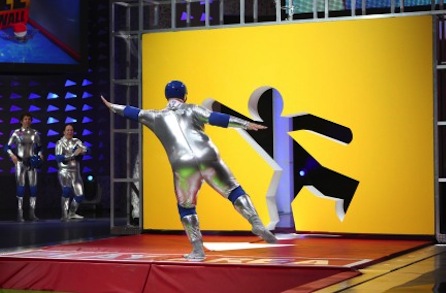 Made in Japan Hole In the Wall coming to Fox this fall.
By ED BARK
Fox is waylaying
The Moment of Truth
-- good riddance -- to midseason in favor of the Fuji TV sensation
Hole In the Wall
.
The "body-bending, mind-twisting global game show phenomenon" is scheduled to premiere on Thursday, Sept. 11th at 7 p.m. (central). Dallas native
Brooke Burns
hosts after going the game show route five seasons ago with NBC's
Dog Eat Dog
.
In a nutshell,
Hole In the Wall
goes like this, says Fox: "Two teams of three compete against each other in multiple rounds of play, facing various barrier walls speeding toward them with weird and wacky cut-out shapes. Each team must contort their bodies individually or in unison to fit through the wall or be swept away into a pool below."
The winning team gets $25 grand plus an opportunity to face "the dreaded 'Blind Wall' " in hopes of earning another $100,000. Why's this on, you ask. Because ABC has made a big splash this summer, particularly among advertiser-craved younger viewers, with its obstacle course-infused, splatter-ready
Wipeout
.
***
It's not over 'til it's over. So Sci Fi Channel will dip once more into its
Battlestar Galactica
franchise for a new, two-hour "special event" scheduled to premiere sometime in 2009 after the series' supposed 10 final episodes air earlier that same year.
Galactica
star
Edward James Olmos
will direct the special event, with shooting scheduled to start in Vancouver at summer's end.