TV Bulletin Board Sept. 22) -- DeLay, Irvin bottom out in Dancing debuts
09/22/09 10:28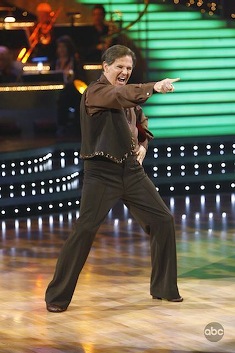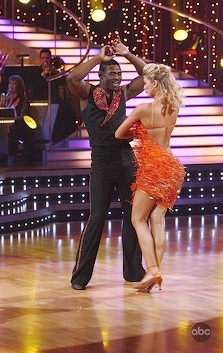 By ED BARK
Don the sequined, crushed velvet smoking jacket. Activate girlyman chip. Put manliness in a blind trust.
Two prominent Texas contestants make it more or less mandatory to keep up with them on ABC's
Dancing with the Stars
, which returned for its ninth edition Monday night with former House majority leader
Tom DeLay
and ex-Cowboys star
Michael Irvin
in less than fine form.
Irvin suffered the ignominy of DeLay outscoring him -- but just barely. The Hall of Famer totaled just 19 points for his cha cha cha and Vienesse waltz, tying him for the night's lowest score with George Hamilton's son, Ashley.
DeLay managed 20 points for the same two dances, beginning his cha cha cha by wiggling his ass in closeup to the tune of "Wild Thing."
"You are crazier than
Sarah Palin
," observed judge
Bruno Tonioli
. Colleague
Carrie Ann Inaba
termed it "surreal."
Irvin got a much better reception -- from the in-house crowd at least -- for his personality-plus performance to James Brown's "I Feel Good." But the judges all panned him, leaving Irvin with a lowly 13 score to DeLay's 16.
The former "Playmaker" made up some ground on DeLay during the Viennese Waltz "Relay Dance," in which four couples sequentially took the floor in 30-second bursts. Irvin was ranked just the third worst in his group, with DeLay at the bottom.
Former Backstreet Boys member
Aaron Carter
had the highest score -- 32 -- among the eight men Monday. Urp, the ever-excrutiating
Donny Osmond
was runnerup with 30 points. The women celebrities dance Tuesday before one of each sex is eliminated Wednesday. Irvin and DeLay likely will survive at least one more week, with Hamilton the probable first dumpee.
***
"The Bitch is Back!!" The CW network proclaims in a publicity release.
That would be
Heather Locklear
, who has signed to reprise her role as scheming Amanda Woodward in CW's ongoing new version of
Melrose Place
, which premiered earlier this month.
"We couldn't imagine creating and producing this show without the iconic character's inclusion," say the showrunners. Locklear will first appear on the Nov. 17th episode.
***
Happy happy, joy joy. Fox has announced a full-season pickup of its critically acclaimed
Glee
.
"It's already got the making of a cultural phenomenon," says Fox entertainment president
Kevin Reilly. The next new episode airs on Wednesday, Sept. 23rd at 8 p.m. (central).