TV Bulletin Board (Sept. 9) -- new Amazing Race field includes unambiguously gay brother duo, one from Fort Worth
09/09/09 11:52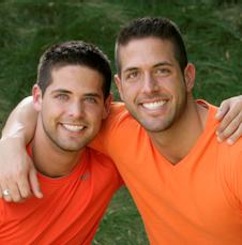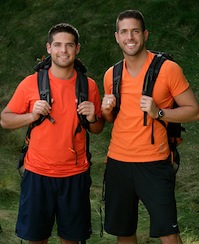 Gay brothers Dan and Sam McMillen, who's from Fort Worth
By ED BARK
CBS'
The Amazing Race
, which launches its 15th edition on Sunday, Sept. 27th, is always looking for new twists in its team partnerships.
It's found one in the
McMillen brothers, Sam and Dan
. Sam, 23, and pictured above on the right, lists his current hometown as Fort Worth. His younger brother, Dan, 21, resides in Liberty, Missouri. The way CBS publicity materials put it, "Sam and Dan will tell you that their relationship did not truly start until last summer when they both came out and told each other that they were gay . . . After doing so, they have discovered a new bond with one another and have become much closer."
Both are students who grew up "Christian in a conservative community," CBS says on its
Amazing Race website
. Sam's pursuing a degree in medicine while Dan has one year to go for a business degree.
Although they've lately bonded, the brothers are "very different in everything they do," according to CBS. "Due to his passive mentality, Sam will need to be more vocal to overcome Dan's blunt, assertive personality in order to contribute to the team while on the road."
The new
Amazing Race
also includes 2004 Miss America
Ericka Dunlap
, who's teamed with her husband of two years,
Brian Kleinschmidt
.
***
CBS' 32nd annual Kennedy Center Honors telecast won't be until Dec. 29th. But the latest recipients have been named, and here they are:
Bruce SpringsteenMel BrooksRobert De NiroDave BrubeckGrace Bumbry
(opera singer)
Should be quite a show.