HBO's challenging, thrilling Watchmen never stops mindbending
10/21/19 10:01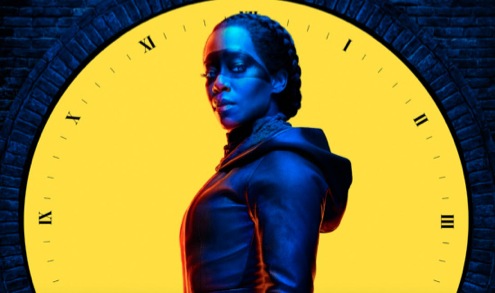 Regina King as Sister Night in see-worthy Watchmen. HBO photo
Premiering:
Sunday, Oct. 20th at 8 p.m. (central) on HBO
Starring:
Regina King, Jean Smart, Tim Blake Nelson, Don Johnson, Jeremy Irons, Louis Gossett Jr., Hong Chau, James Wolk, Frances Fisher, Yahya Abdul-Mateen
Produced by:
Damon Lindelof, Nicole Kassell, Tom Spezialy, Joseph Iberti, Stephen Williams
By ED BARK
@unclebarkycom on Twitter
Getting an A+ for audacity doesn't necessarily move one to the head of the class.
This is particularly true of
Lost
and
The Leftovers
mastermind Damon Lindelof, for whom audacity is a given.
His legions of detractors will heatedly claim that both series' denouements skidded wildly off the runway rather than stuck their landings. Others, and there are many of them, too, argue that the crazily captivating rides were far and above worth taking -- no matter how they ended.
It starts all over again with Lindelof's very loose adaptation of the
DC comic book series Watchmen
. Season One has nine episodes, and HBO made six available for review. Visually entrancing, pointedly provocative and all over the place in time and space,
Watchmen
might make even David Lynch drop his jaw at times. Sort of like HBO's
Westworld
, where few if any know what's going on anymore.
But maybe Lindelof actually knows where he's going. That would be nice. And once again, even if he doesn't, this is television of a higher order with the power to turn brains inside out. Linear it's not. Nor is it
Longmire
. Even FX's oft-far out
Fargo
seems like a broke-in bucking bronco in comparison.
At the center of
Watchmen
is the always dynamic Regina King as detective Angela Abar, who moonlights as the avenging Sister Night in a super cool-looking costume. This also is a series where actor/activist Robert Redford (so far unseen except in a framed picture) has been President since January 1993 and remains so in 2019. And where "squidfalls" from above can make a real mess of things. And where Jeremy Irons pops in and out as Adrian Veidt, something of a crazed Dr. Frankenstein who lives in a castle that may well be located in another dimension or on another planet. Or maybe not. And where masked white supremacists known as The Seventh Cavalry have reemerged after terrorizing the Tulsa, OK police force into wearing masks themselves to conceal their identities. Got enough on your plate yet?
It all begins with the real-life
Tulsa race riot of 1921
, when a mob of white residents attacked and torched the city's prosperous Greenwood neighborhood and its black population. At the height of the carnage, the parents of a little kid named Will smuggle him off in a wagon. A note in his pocket says, "Watch over this boy."
Will's future identity is pivotal to
Watchmen
, but you'll have to wait until Episode 6 for the pretty full story of who he became and what he is in present times. That particular hour is almost all in black-and-white, even if the series is anything but in terms of the storytelling.
Angela Abar's boss in the early going is chief of police Judd Crawford (Don Johnson), whom she greatly admires. He's first seen enjoying a performance of the musical
Oklahoma
by an all-black cast. Whether the chief is all that he seems is an open question. But the same can be said of any principal character.
Another brand name actor,
Fargo
veteran Jean Smart, joins
Watchmen
in Episode 3 as hard-bitten, dry-humored FBI special agent Laurie Blake. Smart and King quickly become the two lead characters in terms of getting to the bottom (or the bottomless pit) of things. This also is a series where the only full nudity is on the part of male characters. In #MeToo times, it's becoming the norm on advertiser-free "adult" cable networks and streaming services. HBO's
The Righteous Gemstones
, which ended its first season on Oct. 13th, is another latter-day example of men caught in the act of exposing their privates.
In another illustrative scene, Agent Blake's young male underling is told, "So sorry, ladies only," before a power meeting is held. This is in Episode 4, where a mysterious high-tech entrepreneur known as Lady Trieu (Hong Chau) serves to further throw viewers for a loop.
Watchmen
also provocatively addresses the reparations (President Redford's Victim of Racial Violence Act) that brought about a resurgence of the Seventh Cavalry. And in Episode 5, which begins in 1985, a mass tragedy is visited upon New York City. This sets the stage for what makes detective Wade Tillman (Tim Blake Nelson) who he becomes, an interrogation specialist known as Looking Glass due to his tight-fitting silver mask. Agent Blake prefers to twit him as "Mirror Guy."
Perhaps this sounds as if it's way too much to digest. But there are some major revelations coming in Episodes 5 and 6. Or at least it sure seems that way, even if Lindelof is fully capable of misdirections, sleights of hand and, sometimes, pure nonsense.
Whatever happens in future seasons -- assuming there are some --
Watchmen
mostly enthralls with the power of its images, imagination and determination to cartwheel its way toward SOMETHING REALLY BIG in whatever end awaits. Whether Lindelof knows what he's doing remains anyone's guess. Well, duh. But what he's done so far is one of the damnedest things you'll ever see.
GRADE:
A-minus
Email comments or questions to:
unclebarky@verizon.net