Perry stumbles upon Dancing with the Stars
08/30/16 09:15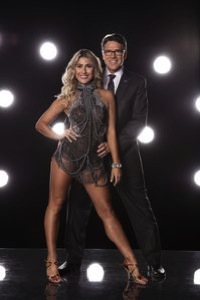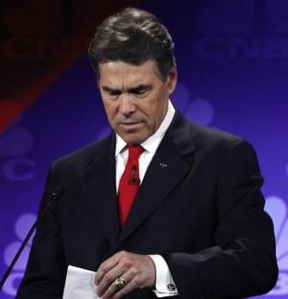 Rick Perry with new DWTS partner Emma Slater and at a debate.
ABC/file photos
By ED BARK
@unclebarkycom on Twitter
Apparently addicted to being quickly voted off big stages, Rick Perry's next venture is
Dancing with the Stars
, where he'll be hoofing and puffing next month after two failed presidential campaigns.
The former Texas governor joined a field of 13 announced Tuesday by ABC. When the 23rd edition of the show launches on Sept. 12th, he'll be paired with pro dancer Emma Slater.
Other names you might recognize include recently disgraced Olympic swimmer Ryan Lochte, Dallas native Vanilla Ice (real name Robert Van Winkle), Marilu Henner, Maureen McCormick, Kenny "Babyface" Edmonds and Calvin Johnson Jr., who had dropped the Jr. while playing in the NFL.
In video clips on ABC's media site, Perry describes his new dance partner as "fabulously lovely and charming . . . I knew that I had hit the lottery." Slater in turn calls him "devilishly handsome."
Perry notes that he competed live onstage in previous Republican candidate debates, including his infamous "Oops" moment in the 2012 presidential contest. "It's just in a little different silo," he says of
DWTS
. "You're out there without a wire every week."
He pledges to speak up for veterans for however long he lasts. "This isn't about me," Perry says. "This is about the veterans in this country. We're gonna tell a lot of their supporting stories" while also touting the organization
"Advance the Colors."
And in case you don't think Perry's in it to win it, well, "On a one to 10, I'm about 11.5 on the competitive scale," he contends. "We came to win."
Slater says she'll be journeying to Texas for as long as Perry lasts to groom him for the samba, the rhumba, the fox trot, etc. She promises to push him hard. "No slack," says Perry. "That's how I like it."
He's not the first Texas politician to give
DWTS
a whirl. Tom DeLay, the former House Majority Leader until alleged ethics violations waylaid him, participated in the show's ninth edition before withdrawing in Week 3 with an injury. In that same edition, ex-Dallas Cowboys star receiver and Hall of Famer Michael Irvin lasted all the way to Week 9.
But wait, there's more. Former Dallas Cowboys star running back and Hall of Famer Emmitt Smith won the third edition of
DWTS
and Dallas Mavericks owner Mark Cuban competed in the fifth edition before being voted off in Week 5.
Besides the previously mentioned competitors, the latest
DWTS
field also will include Amber Rose, Jake T. Austin, James Hinchcliffe, Jana Kramer, Laurie Hernandez and Terra Jole, who's a native of San Antonio.
Email comments or questions to:
unclebarky@verizon.net