Abby's makes it bar time again for NBC
03/27/19 15:15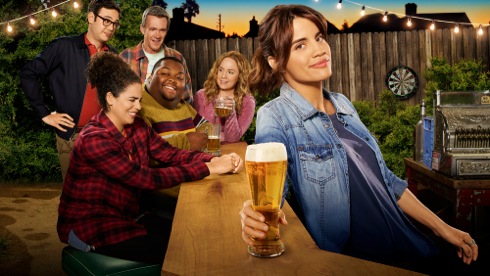 NBC is hoping viewers somehow will say cheers to Abby's. NBC photo
Premiering:
Thursday, March 28th at 8:30 p.m. (central) on NBC
Starring:
Natalie Morales, Neil Flynn, Nelson Franklin, Jessica Chaffin, Leonard Ouzts, Kimia Behpoornia
Produced by:
Michael Schur, Pamela Fryman, Josh Malmuth, David Miner
By ED BARK
@unclebarkycom on Twitter
The onetime network of
Cheers
wants to drink to that again.
Except that Ted Danson's womanizing Sam Malone can't get a liquor license anymore. Nor would
Cheers'
all-white cast get a pass. In NBC's notably diverse
Abby's
, the bar owner is a proudly bisexual Cuban woman and Marine Corps combat veteran whose manager is of Iranian descent. And if you're looking for a Norm Peterson, you'll find him in the demonstrably more plus-sized James, who is African-American.
A nettlesome laugh track remains in play, though, giving
Abby's
a throwback
Cheers
vibe at the drop of every one-liner. As when barfly Beth, who's basically a runaway mom, gripes about her kids being "obsessed with me. They want me to hug them and make them food." Ha ha ha. It's all "filmed in front of a live outdoor audience."
Heading the cast is Natalie Morales, whose Abby's bar is located in her San Diego backyard. It's a regimented place of rules and realness, with regular patrons required to earn their assigned barstools by conducting themselves like responsible heavy drinkers. Abby's veteran top earner is Fred (durable Neil Flynn from
The Middle
), who gets the opening lines in each of the first three episodes while sporting his former character's trademark flannel attire in Thursday's premiere.
The designated interloper is bespectacled Bill (Nelson Franklin), nephew of Abby's newly deceased landlord. Fresh from a divorce in which ex-wife frisked him of virtually everything, nerd-ish Bill is aghast at discovering what he sees as an illegal watering hole. So of course he wants to shut it down before prototypically coming to his senses before Episode 1's bar time.
Abby's means everything to Abby, with regulars Beth (Jessica Chaffin) and James (Leonard Ouzts) likewise lost at sea without its inexpensive drinks and camaraderie. Manager Rosie (Kimia Behpoornia) wouldn't know what to do with herself either in a sitcom that so far doesn't stray beyond the confines of the bar, its ad hoc parking lot and Abby's adjacent home.
Episode 2 revolves around "Free Alcohol Day," in which a liquor saleswoman annually allows patrons free tastes of a new product. But the "all-spice" vodka can barely be choked down while Abby's previous intimate relationship with the saleswoman has tongues whirring. A third episode made available for review introduces Bill's ex-wife, Sharon, whose San Diego Padres season tickets are much coveted by Fred and the other regulars. So c'mon, Bill, man up and demand that she give them back. (Why anyone would be this eager to attend Padres games is never addressed.)
Some of the jokes in
Abby's
manage to go down easier than the spiced vodka. But too many of them don't, including the spectacle of Bill being crowned "Tuna Pope" as a means of sealing his sense of belonging.
Unlike
Cheers
, the newcomer has inclusiveness going for it. But the writing is no match at all. In that sense,
Abby's
is like San Diego's reliably nondescript Padres going against the reigning world champion Boston Red Sox, for whom alcoholic Sam Malone pitched before heavy drinking cut his career short.
In that context, look for
Abby's
to have a short run while its featured booze hounds need not worry about being cut off.
GRADE:
C+
Email comments or questions to:
unclebarky@verizon.net