TV Bulletin Board (Sept. 11)
09/11/08 10:30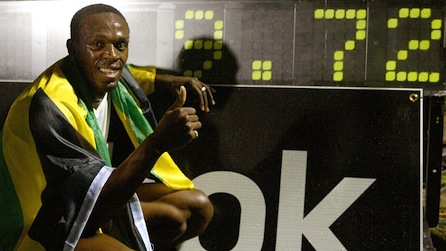 By ED BARKDavid Letterman
tells
Rolling Stone
that he's now content to run second behind
Jay Leno in the late night ratings wars.

That said, he continues to book big-name guests, including the world's fastest man. Jamaican sprinter Usain Bolt, who wowed the world at the Summer Olympics, will make his first U.S. talk show appearance Sept. 24th on Late Show with David Letterman.

Bolt flashily set world records in the 100- and 200-meter races, leaving competitors astonishingly far behind. Maybe he can elevate Letterman to No. 1, too -- at least for a night.

Also, this just in: The Late Show Top 10 list for Thursday, Sept. 11 will be read by Al Pacino and Robert DeNiro, whose Righteous Kill film opens on the following day. They'll be emoting on the "Top 10 Reasons I Love Being an Actor."

***This should be intriguing. Operatic singer Josh Groban will perform a medley of timeless TV theme songs during the Sept. 21st prime-time Emmy awards ceremony on ABC.

A publicity release says that Groban's selections will include the themes for The Brady Bunch and The Simpsons. But will the latter theme, which has no words, leave him speechless?

***TBS has renewed The Bill Engvall Show for a 10-episode third season. The sitcom's name-in-the-title star learned the standup trade performing in North Texas comedy clubs before striking it rich in Hollywood.

"There's something about this cast and this show that gives you a good feeling inside," TBS exec Michael Wright.

Engvall plays a family counselor who's married with three oft-unruly kids.

***CNN continues to try to do the right thing while Fox News Channel and MSNBC square off as loud-talking political polar opposites.

The grandfather of cable's all-news networks is launching a new weekly series, hosted by Roland Martin, that "will challenge his guests and viewers to leave the political talking points behind and join him in a no-nonsense approach about what voters are actually talking about."

The first show, titled Seven Weeks to Go, airs on Saturday and Sunday (Sept. 13-14) at 7 p.m. central each night. The next one will be called Six Weeks to Go, so I think you know where this is going.