Fox's Deputy looks bullet-proof on a network that's lately rolling
12/30/19 10:39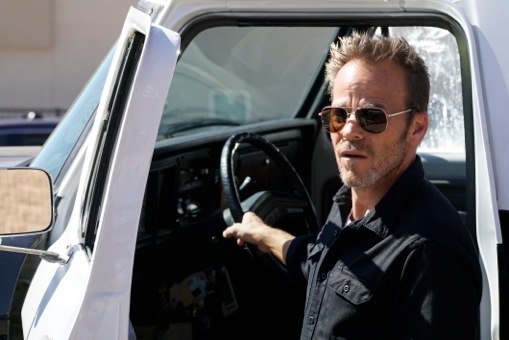 Stephen Dorff takes the BS by the horns in Deputy. Fox photo
Premiering:
Thursday, Jan. 2nd at 8 p.m. (central) on Fox
Starring:
Stephen Dorff, Yara Martinez, Brian Van Holt, Bex Taylor-Klaus, Mark Moses, Shane Paul McGhie
Produced by:
David Ayer, Chris Long, John Coveny, Kimberly Harrison
By ED BARK
@unclebarkycom on Twitter
Fox lately has out-gamed its three main broadcast network rivals in ringing out the old and replenishing its prime-time schedule with new audience-grabbers.
The Masked Singer
and
9-1-1
have been immediate breakout hits, with a Texas-based
9-1-1
spinoff coming later in January.
The Resident
and
Beat Shazam
are solid ratings performers while
WWE Friday Night Smackdown
body-slams the competition among advertiser-prized 18-to-49-year-olds.
If you've seen any of these shows, you've also seen a heavy dose of promotions for Fox's
Deputy
, the network's likely sure-fire big bet for midseason. Part retro, part "woke," it premieres on Thursday, Jan. 2nd at 8 p.m. (central) alongside another Fox success story, the returning
Last Man Standing
reboot with back-to-back episodes featuring Jay Leno and Terry Bradshaw. Fox also happens to have the 2020 Super Bowl. This is what being on a roll looks like.
Deputy
's leading man is played by Stephen Dorff, a standout in HBO's third season of
True Detective
alongside Mahershala Ali. When the Los Angeles County sheriff conveniently dies of a heart attack, Dorff's hard-headed, hard-driving, Ivory Tower-despising, fifth generation lawman Bill Hollister inherits the job via the dictates of an arcane charter dating back to the Old West.
But Hollister also has a creamy nougat of a heart when it comes to the downtrodden and oppressed. An impending ICE roundup of suspected illegal immigrants goes against his grain and prompts the first of several prototypical clashes with officious higher-upper Jerry London (Mark Moses).
"I don't give a pinch of dry turd how those folks got here," Hollister retorts. His duty, he says, is to protect them.
Even so, Hollister also regularly downloads Clint Eastwood's "Dirty Harry" Callahan when it comes to ignoring "procedure" during the course of punching, shooting, chasing and cuffing L.A.'s endless supply of dirt bags.
"Too many save-asses. And not enough ass-kickers!" he bellows in the first episode, one of three made available for review.
Hollister is married to the equally strong-willed Paula Reyes (Yara Martinez), a chief trauma surgeon with little patience for him when it comes to her patients. But they're always a team at crunch time -- and also parents of a so far slightly seen teenage girl whom dad doesn't want dressing like a "feral Kardashian."
The other woman in his life is whip-smart, severely dressed and coiffed deputy Brianna Bishop (Bex Taylor-Klaus), whose main duties are driving Hollister around, keeping him on schedule and putting him in his place. Bishop is openly gay and in L.A. after quitting the Pentagon to be with her true love, who's glimpsed in Episode 2.
The cast is rounded out by Hollister's military veteran partner Cade Ward (Brian Van Holt) and his godson, Joseph Harris (Shane Paul McGhie), whose father was killed while partnering with Hollister. Harris is now a newly minted and very baby-faced cadet striving to be the man his father was while Hollister is determined not to "lose him" as well.
The script very occasionally crackles when not making a fool of itself with lines like, "Badge or no badge, I'll always come after scum like you." Most of the better lines go to Bishop when confronting Hollister about his overall comportment.
Deputy
otherwise is never too far from an action scene replete with automatic weapons fire. After all, Hollister is "serious as a heart attack" about taking some big chomps out of crime. He's very careful, however, not to be politically incorrect about it. Meanwhile, the go-to channel for breaking crime news is always L.A.'s Fox 11.
All of this is too ham-handed to merit a seal of approval from yours truly or likely most other TV critics. Not that it will matter in the least.
Deputy
very much looks as though it will be bullet-proof on a network that has pushed a lot of receptive buttons of late. Take it from bad ass Bill Hollister, who barks at the end of Episode One, "Buckle up. I'm just gettin' started."
GRADE:
C+
Email comments or questions to:
unclebarky@verizon.net