TV Bulletin Board (March 5)
03/05/08 15:16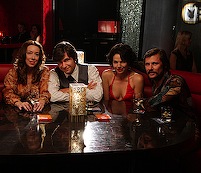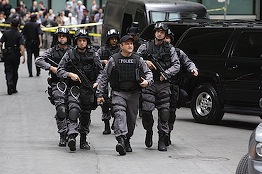 Disparate dramas Swingtown, Flashpoint joining CBS this summer.
By ED BARK
Freewheelin' love from the '70s and heavy-duty cops patterned after a contemporary Canadian task force will be in CBS' summer mix.
Swingtown
, whose principal star is
Grant Show
from
Melrose Place
, is set for a May 29 premiere.
Flashpoint
, co-starring
Enrico Colantoni
(
Veronica Mars
), will premiere in July on a still to be announced date.
CBS describes the long-in-development
Swingtown
as a peak into the "shag-carpeted suburban homes of the culturally transformative '70s to find couples reveling in the sexual and social revolution that introduced women's liberation and challenged conventional wisdom." Nice.
Flashpoint
is billed as "an emotional journey into the tough, risk-filled lives" of a jut-jawed uniformed unit that "rescues hostages, busts gangs, defuses bombs, climbs the sides of buildings and talks down suicidal teens." Breezy.
***
NBC in contrast mostly will go the less demanding reality route with an "All-American Summer" that includes the returns of
American Gladiators
on May 12th and a third edition of
America's Got Talent
on June 24th.
Also included in the Peacock's plans are
Celebrity Circus
(June 11),
Nashville Star
(June 9th with new host
Billy Ray Cyrus
) and
Fear Itself
(May 29th), a scripted, 13-part "suspense and horror anthology series."