Modern Love gives Amazon Prime a new/old take on what still makes the world go 'round
10/17/19 14:29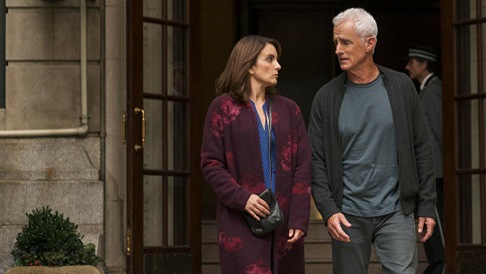 Brand names: Tina Fey & John Slattery are included in
Modern Love
. Amazon photo
Premiering:
All eight Season One episodes begin streaming Friday, Oct. 18th on Amazon
Starring:
Tina Fey, John Slattery, Anne Hathaway, Jane Alexander, Dev Patel among others
Produced by:
John Carney, Todd Hoffman, Sam Dolnick, Choire Sicha, Trish Hoffman
By ED BARK
@unclebarkycom on Twitter
Being of a "certain age" helps if you're looking for a TV series with which to compare Amazon Prime's
Modern Love
.
Honestly, though, only a few remaining fossils among us TV critic types might have any firsthand viewing experiences with
Love, American Style
, which aired on ABC from fall 1969 until January 1974, and has largely vanished ever since. The one-hour anthology series cobbled together various unrelated romance vignettes. One of them turned out to be a backdoor pilot for
Happy Days
, but without "The Fonz."
Modern Love
, drawn from a longstanding weekly column in
The New York Times
, offers eight half-hour episodes with either upbeat or at the very worst bittersweet endings. They're more "adult" and far more diverse than anything
Love, American Style
put onscreen. Still, expect some heavy doses of saccharine intensity whenever a pop tune pops in -- which can be rather too often. Otherwise an opening theme song remains in place throughout. It's a pleasant listen that's reminiscent of the weekly mood-setter for
Cheers
. "We face the music together, and throw our hats in the ring" . . . and so on.
The
Times
is a co-producer in partnership with Amazon Studios. Profanity occasionally is allowed to seep through, but there's nothing close to nudity and only a brief run-up to actual lovemaking -- in Episode 5 before things quickly go very awry. All of the episodes have subtitles with at least three times as many words as
Modern Love
. They range from "When the Doorman Is Your Main Man" to "So He Looked Like Dad. It Was Just Dinner, Right?" Everything is set in New York City.
All eight episodes were made available for review, and one of the best also happens to have the most built-in star power. In Episode 4 ("Rallying to Keep the Game Alive"), Tina Fey and John Slattery play wife/husband Sarah and Dennis. He's an actor who spends much of his time being pampered on various movie sets. As a result, she's come to feel inconsequential as a comparative homebody tending to their two children.
They're in therapy for starters, with Sarah wondering what they'll have together once the kids are out of the house. This doesn't go particularly well, with Dennis contending that his hobby away from acting is "cooking." To which Sarah snorts, "My hobby is using the toilet."
The dialogue is sharp and their arguments grow sharper, particularly during tennis matches that are supposed to provide some relaxing, common-ground togetherness. But there are ways of working these things out. And bottom line, that's what
Modern Love
is all about.
Episode 3 ("Take Me As I Am, Whoever I Am") features Anne Hathaway as the seemingly very sunny Lexi. Full of life and its possibilities, she comes on to a guy named Jeff (Gary Carr) while they're checking out the produce at a supermarket. The episode steals from
Crazy Ex-Girlfriend
with an out-of-body, singing/dancing production number before Lexi falls heavily back to earth for reasons that won't be revealed here. Hathaway is quite good in this role, and there's also a cameo by Judd Hirsch.
Episodes 5 and 6 both revolve around unlikely couples. They're also the most open-ended of the eight, but with rainbows still in play following journeys worth taking.
Only one of the stories involves a same-sex relationship. That would be Episode 7 ("Hers Was a World of One"), in which gay couple Tobin and Andy (Andrew Scott, Brandon Kyle Goodman) decide to adopt a child. After a few dead ends, they're presented with a homeless woman named Karla (Olivia Cooke), who's determinedly independent and a big handful down the stretch.
"You read
The New York Times
and you bitch about Trump, but you mean none of it" in terms of tolerance for others, Karla angrily tells Tobin, who later cops to being both "anal and neurotic." But they can work it out during the course of an episode that also works in a cameo from Ed Sheeran.
The
Times
references itself more directly in Episode 2 ("When Cupid Is a Prying Journalist"). Catherine Keener plays Julie Farber, who's doing a profile for the newspaper's Sunday magazine on a date site entrepreneur named Josh (Dev Patel). It turns out that both have had true loves that since went lost. So what are they going to do about it?
The climatic episode -- and also the most affectingly sentimental -- casts Jane Alexander as a widow for the second time around. "Young love, even for old people, can be surprisingly bountiful," she eulogizes at her second husband's funeral. The life-affirming closing minutes intertwine all of the previous stories, including an Episode 1 in which a doorman turns out to be a girl's best friend.
Despite its varying trials and travails,
Modern Love
strives for an overall feel-good vibe that isn't always entirely earned. For the most part, it's gentle on the mind and soothing to the nerves in times when
The New York Times
front page is a steady drumbeat of downers. The looks of love have changed dramatically since
Love, American Style
premiered a half-century ago. But the sentiment has no expiration date.
GRADE:
B
Email comments or questions to:
unclebarky@verizon.net