TV Bulletin Board (Oct. 1) -- Letterman/Ferguson roll in late night, LeBlanc will play self in new Showtime laugher
10/01/09 12:24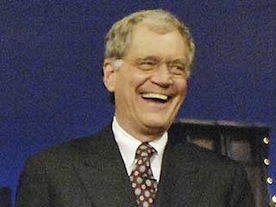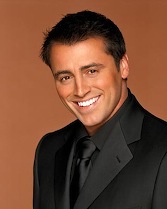 Lotsa laughs lately for David Letterman and Matt LeBlanc
By ED BARK
This is starting to look seriously bad for NBC.
While
The Jay Leno Show
struggles to gain prime-time traction, his successor as
Tonight Show
host continues to take a serious thrashing from CBS'
Late Show with David Letterman
.
It was especially grim during the 2009-'10 season's "premiere week" (Sept. 21-25), when Letterman doubled up on
Conan O'Brien
by averaging 5 million viewers to
Tonight
's 2.4 million.
Worse yet for NBC, Letterman also won among advertiser-coveted 18-to-49-year-olds for the first time since 2005, says CBS. If that
Tonight
stronghold crumbles, the forced exit of Leno will be an unmitigated disaster.
With Leno still presiding,
Tonight
averaged 4.7 million total viewers during premiere week of the 2008-'09 season. Letterman ran well behind with 3.9 million viewers.
Letterman's
Late Show
was boosted last week by back-to-back visits from President Obama and former president Bill Clinton. Meanwhile, O'Brien bumped his head hard during last Friday's taping, prompting NBC to substitute a rerun while the host went to the hospital. Even so,
Late Show
has been beating
Tonight
in total viewers for the past three months. So it had already been a bumpy ride for O'Brien after a fast start that quickly petered out.
CBS also is prospering with
Craig Ferguson
's
Late Late Show
, which likewise won premiere week in total viewers while tying NBC's
Late Night with Jimmy Fallon
among 18-to-49-year-olds.
***
Former
Friends
star
Matt LeBlanc
and one of the show's key executive producers,
David Crane
, are in business again with a new Showtime comedy series called
Episodes
. Premise: LeBlanc plays himself in a "dumbed down" American version of a British hit.
"We jumped at the chance to get involved with this cockeyed look at network television told through the eyes of unsuspecting British producers who don't know what hit them when they enter the lion's den of Hollywood," Showtime entertainment president
Robert Greenblatt
says in a publicity release. "And Matt LeBlanc -- wryly sending up his own image -- is icing on the cake."
LeBlanc says he's happy to have the part because "seeing someone else play Matt LeBlanc would have been devastating."
Six episodes have been ordered for a 2010 debut on both Showtime and BBC Two. Crane and
Jeffrey Klarik
(
Mad About You
are the show's creators.
***
Readers with DirecTV -- or who have friends with DirecTV -- can catch six hours of commercial-free
Farm Aid 2009
this Sunday, Oct. 4th.
Show time is 4 p.m. (central) on the satellite service's 101 Network.
Willie Nelson, Neil Young
and
John Mellencamp
will perform as always. Other announced acts include
Dave Matthews, Wilco, Jason Mraz, Gretchen Wilson, Billy Joe Shaver, Phosphorescent
and the always popular
Titty Bingo
.