Fox's The Moodys serves up a Christmas of discomfort and joy
12/03/19 10:19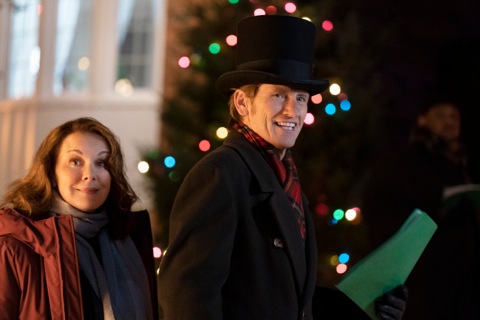 It's rarely all aglow in The Moodys Christmas series. Fox photo
Premiering:
Wednesday, Dec. 4th with back-to-back episodes and continuing on Monday/Tuesday at 8 p.m. (central) each night
Starring:
Denis Leary, Elizabeth Perkins, Francois Arnaud, Chelsea Frei, Jay Baruchel, Maria Gabriela de Faria, Josh Segarra, Kevin Bigley, Megan Park, Gerry Dee
Produced by:
Bob Fisher, Eric Tannenbaum, Kim Tannenbaum, Jason Burrows, Rob Greenberg, Tad Quill, Trent O'Donnell, Phil Lloyd
By ED BARK
@unclebarkycom on Twitter
Put caustic Denis Leary amid holiday surroundings and you won't come away with any Hallmark goo on you. Well, maybe just a little.
Leary's durable
The Ref
, released back in 1994, cast him as a Christmas season burglar caught amid a highly dysfunctional family. In 2005, his
Merry F#%$in' Christmas
, adapted from a same-named comedy CD, began airing on Comedy Central. It wasn't particularly heartwarming.
Fox's uniquely presented, six-part
The Moodys
, based on an Australian TV series, puts Leary in a somewhat softer light as a harried married man with three troubled adult children. Episode One begins with his wife, Ann (Elizabeth Perkins), blasting away at ornaments and decorations before loudly declaring, "Christmas is canceled!" Then comes a backtrack to what brought the Moodys to this point.
The series is airing in three parts, with back-to-back half-hour episodes on Wednesday, Dec. 4th, Mon., Dec. 10th and Tuesday, Dec. 11th.
Bad Santa
it's not, with Leary's Sean Moody a recovering alcoholic rather than a heavy drinker in the mold of Billy Bob Thornton's dirty-to-the-touch Willie T. Soke, whose specialty was Christmas season heists.
The Moodys
, set in Chicago, ends up striking a fairly solid balance between sardonic and sentimental. Even
Bad Santa
ends "happily," because few among us want to watch a Christmas movie in which nothing winds up being calm or bright. Be assured, though, that
The Moodys
runs deeper and grittier than anything you'll see in Hallmark's virtually identical, hot chocolate-fueled "Countdown to Christmas" movies.
OK, let's meet the Moody offspring, shall we?
Sean Jr. (Jay Baruchel), the oldest of two sons at age 31, continues to live in Dad's RV, which is parked on the premises. His latest grand business venture is honoring the deceased by shooting their ashes high into the sky amid fireworks. It's not getting off the ground, though.
Only daughter Bridget (Chelsea Frei) is married but remorseful after an impulsive one-night stand that mortifies her husband. "I just lit my life on fire," she confides to a fitness-obsessed high school wrestling coach named Monty (Kevin Bigley), who's basically pure as the driven snow.
Youngest son Dan (Francois Arnaud) is home for the holidays from New York, but initially without girlfriend Ali (Megan Park). It's his latest relationship gone sour, of which mom bluntly reminds him. But Dan soon has eyes for Cora (Maria Gabriela de Faria), who's dating his cousin and best friend, Marco (Segarra). His super white teeth, displayed via a series of ear-to-ear grins, deserve to be credited as a supporting character.
Also in the family mix are goofy Uncle Roger (Gerry Dee) and frequent visitor Big Stan (Kwasi Songui), an accomplished pie maker who doesn't mind saying so himself. The family dog, Leon, a gift 18 Christmases ago, is now infirm and increasingly immobile. Here's where the heartstring tugs come in.
Sean Sr., who has his own heating and air-conditioning company, is also facing a health situation that slips out in dribs and drabs to his three children.
The Moodys
easily could -- and should -- do without this odd little twist, which is partly and wrongheadedly played for laughs.
Though it all, mom and dad Moody remain holiday traditionalists, whether it's Ann's cookie-eating/tree-trimming ritual or Sean Sr. leading a caroling brigade while wearing a top hat. There's also midnight mass, where dad longs to be the lector. The kids have grown weary of it all, but grudgingly play along when not jabbing at each other.
It's not always an optimum blend of merriment and miscreants. Still,
The Moodys
earns its candy cane stripes as a Christmas mini-series with bite.
GRADE:
B-minus
Email comments or questions to:
unclebarky@verizon.net