TV Bulletin Board (Dec. 14)
12/14/06 16:33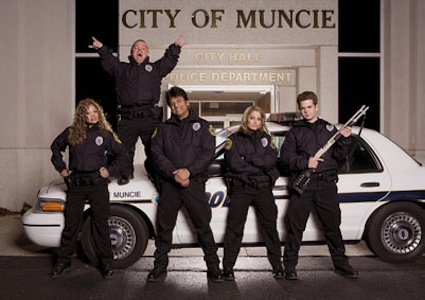 Shoot the messenger? CBS unleashes has-beens with guns.
By ED BARK***
Former
ChiPs
frontman
Erik Estrada
and four other "brave stars" will become made-for-TV Muncie, Indiana cops on the upcoming CBS "reality" series
Armed & Famous
.
It's due on Wednesday, Jan. 10 in the spot earlier occupied by
Jericho
, which is due back later in the season.
Estrada, 23 seasons removed from his signature role as Highway Patrolman Frank "Ponch" Poncherello, will be joined by
Ozzy Osborne
offspring
Jack Osborne
, ex-WWE wrestler
Trish Stratus
, skateboarder
Jason "Wee-Man" Acuna
and
La Toya Jackson
, who's billed as an "author."
They'll train with the "full cooperation" of the Muncie PD before hitting the streets of the city that's home to
David Letterman's
alma mater, Ball State University. Man, is he gonna have fun with this one.
***
Count
Ted Danson
out on ABC. His quality comedy series
Help Me Help You
has been shelved in favor of back-to-back episodes of
Big Day
. Beginning on Dec. 19th, they'll run on Tuesdays through Jan. 16th from 7 to 8 p.m. central time.
***
NBC won't be laying back on Christmas night. It's planning all-new holiday-themed episodes of its two big-money game shows,
Deal or No Deal
and
1 vs 100
.
The two-hour
D or No D
"bonanza" looks extra-special. Host
Howie Mandel
will descend in a sleigh onto a decked-out stage, with the show's 26 suitcase carriers wearing red velvet Christmas dresses and caroling in hopes of luring "The Banker" from his Scrooge-like perch.
On
Bob Saget's
1 vs 100
, "The Mob" will be made up of Santa Claus, elves and the "12 Days of Christmas." Here's the breakdown, according to NBC: 12 members of the Southern Cal marching band, 11 plumbers, 10 male ballet dancers, nine exotic female dancers, eight farmer's wives, seven members of a swim team, six pregnant women, five boxers, four men named Bird, three French chefs, two dove hunters and
Danny Bonaduce
as a partridge in a pear tree.
The only thing stranger would be
Big Bird
making a surprise visit on
D or No D
. Consider it done, says NBC.