TV Bulletin Board (Thurs., April 8) -- ABC stocks summer shelves with 14 new and returning series
04/08/10 09:21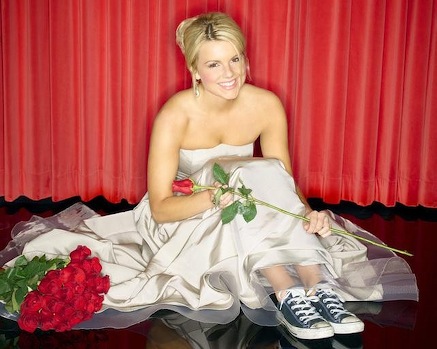 Bachelorette Ali Fedotowsky will "risk it all for love." ABC photo
By ED BARK
ABC has a slew of summertime programming ready to roll, including three new drama series, a pair of freshman reality hours and the returns of
The Bachelorette, Wipeout, True Beauty, Shaq Vs
and (urp)
Dating in the Dark
.
The network's news division also will kick in four series, including
Mind Games
and
Head Cases
. Here they are in order of appearance:
The Bachelorette
(May 24) -- Frisky San Franciscan Ali Fedotowsky fell for Dallas flyboy Jake Pavelka on the latest installment of
The Bachelor
. But she opted to "choose a job she loved over the man she loved," as ABC puts it. So now she's back, this time in the driver's seat, after reversing her priorities.
True Beauty
(May 31) -- The alleged search for inner beauty returns, with producers Tyra Banks and Ashton Kutcher at the throttle. Added this year is shock jock Howard Stern's wife, Beth Ostrosky Stern, a former model who will "share her opinions on beauty." That should be riveting.
Wipeout
(June 1) -- More fall-down-go-boom fun, with ABC promising "brand new, bigger, better and wilder obstacles" and, of course, plenty of mud.
The Gates
(June 20) -- A new soap opera-ish drama centers on the Monahans, who relocate from Chicago to a seemingly blissful private mountain community. Patriarch Nick Monahan is the new police chief, and anticipates nothing more taxing than traffic tickets. But oh no. Because "there's something very different about this place, almost . . . haunting." A no-name cast is headed by Frank Grillo.
Scoundrels
(June 20) -- Virginia Madsen (
Sideways
) and David James Elliott (
JAG
) star in a comedy/drama about a family of penny ante criminals that tries to go straight after daddy is incarcerated. Based on the New Zealand series
Outrageous Fortune
.
Rookie Blue
(June 24) -- Five young cops fresh out of the academy are plunged into "a world where even the smallest mistake can have life or death consequences and serious emotional fall-out." Not to say the heartbreak of psoriasis. The stars are people you've never heard of. That is, unless you've heard of Missy Peregrym, who plays the daughter of a former cop who wasn't very good at being either a cop or a pop.
Boston Med
(June 24) -- Another up-close, real-life look at dedicated caregivers from the producers who brought you the award-winning
Hopkins
. From ABC News.
Downfall
(June 29) -- Contestants play for big money from "atop a tall building in the middle of a metropolitan landscape." Those who don't answer trivia questions quickly and correctly "could just as easily see their hopes and dreams slip through their fingers and off the side building -- literally," says ABC. Did the network mean to say "side of the building?" And who the hell greenlights these things anyway?
Mind Games
(July 20) -- Another ABC News venture takes viewers "into the darkest corners of the human mind and how it can be twisted -- real cases where 'reality' gives way to fantasy."
Bachelor Pad
(Aug. 9) -- Presenting an all-star reunion of 20 of the "most unforgettable" contestants/suitors from previous editions of
The Bachelor
and
The Bachelorette
. They'll all live in the same house and compete in challenges, with each two-hour edition ending in evictions. Winner gets a chunk of money and a chance to find "the one" while mingling with all the other fellow posers. Don't we already have that show? Isn't it called
Big Brother
?
Dating in the Dark
(Aug. 9) -- ABC actually has ordered a
second season of this
. But so far the network hasn't yet bit on another edition of
Conveyor Belt of Love
. Emphasis on "yet."
Shaq Vs
(Aug. 10) -- In the twilight of a storied NBA career, Shaquille O'Neal returns for a second season of battling other stars on their home turfs. This time it won't be just sports. ABC says the show also will immerse Shaq in a spelling bee and a "dance crew" battle.
Head Cases
(Aug. 19) -- ABC News strikes again with a "groundbreaking series into how science and technology are enabling us to look inside our heads and affect the processes of the brain."
Primetime: Crime
(Aug. 24) -- The network spends just one sentence on this one. Here it is: "The series takes viewers inside investigations of breaking crime stories, and those that have been stumping authorities for years."