TV Bulletin Board (Mon., Feb. 15) -- Babs bowing out with 30th and last Oscar night special
02/15/10 10:28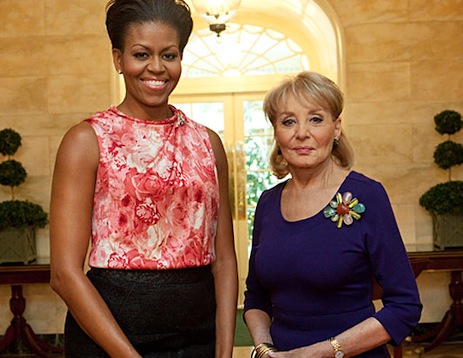 Barbara Walters with "Most Fascinating" person of 2009. ABC photo
By ED BARKBarbara Walters
is shuttering her annual ABC Oscar night special, signing off on March 7th with guests
Sandra Bullock, Mo'Nique
and clips from past shows.
She made the announcement on Monday's
The View
, telling viewers, "ABC has asked me to keep doing these specials as they have always been so successful . . . But to be honest, I feel like I've been there, done that."
Walters, 80, launched her Oscar specials on March 31, 1981, welcoming
Ringo Starr, Barbara Bach
and others. In the ABC release announcing The End, she noted the tingle she experienced when Oscar host
Hugh Jackman
gave her an impromptu lap dance last year.
Walters also recalled a tango lesson from
Al Pacio
and a sit-down with
Bette Davis
.
"It's those priceless moments that have made this special the Oscar tradition that it has become, but I truly feel enough is enough," she said.
ABC said that Walters will continue hosting her
10 Most Fascinating People
specials, with First Lady
Michelle Obama
emerging at the top of 2009's list.