TV Bulletin Board (Sept. 16) -- Jay/Conan/guests
09/16/09 16:42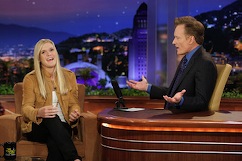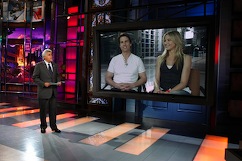 Tuesday's guests: Melanie Oudin on Conan O'Brien's Tonight Show; Tom Cruise and Cameron Diaz on The Jay Leno Show. NBC photos
By ED BARK
You think
Conan O'Brien
might be having a little guest envy right now?
Some TV critic types -- guilty as charged -- speculated that the pecking order of
The Jay Leno Show
and
The Tonight Show
might end up biting O'Brien in the ass.
Well, it's still early. But based on announced guest lists through Oct. 2nd, it sure looks as though Leno is getting his pick of the celebrity litter while O'Brien subsists on leftovers or in some cases settles for seconds.
Drew Barrymore
, scheduled to be Leno's first celebrity car racer on the Friday, Sept. 18th show, will get around to doing the
Tonight Show
on Monday, Sept. 28th.
Michael Moore, who was Leno's guest on Tuesday of this week, is slotted for Tonight on Thursday, Oct. 1st. Brad Paisley will do Leno on Sept. 28th and Conan two nights later.

Here's a look at the Sept. 21 to Oct. 2 guest rosters:

Sept. 21
Leno -- Jennifer Garner
O'Brien -- Ricky Gervais and Lynyrd Skynyrd
Advantage: Pretty much a wash. I'd rather see Gervais, but Garner's arguably a bigger name and easier sell.

Sept. 22
Leno -- Pee-wee Herman and Amy Poehler
O'Brien -- Rebecca Romijn, Lisa Lampanelli and Monsters of Folk
Advantage: Leno

Sept. 23
Leno -- Vince Vaughn, Al Michaels and Bob Costas
O'Brien -- Martin Short, Tim Gunn and Wynonna
Advantage: Leno

Sept. 24
Leno -- Rush Limbaugh, Smokey Robinson and Joss Stone
O'Brien -- Calista Flockhart and Joel McHale
Advantage: Leno

Sept. 25
Leno -- Hugh Laurie
O'Brien -- Teri Hatcher and Seth MacFarlane
Advantage: -- Too close to call

Sept. 28
Leno -- Bill Maher, Brad Paisley and Sheryl Crow
O'Brien -- Drew Barrymore, Joe Talamo and Paramore
Advantage: Leno, who's already had Barrymore

Sept. 29
Leno -- Julia Louis-Dreyfus
O'Brien -- Brad Garrett and Quinn Dahle
Advantage: Leno

Sept. 30
Leno -- Steve Carell, Vince Gill and Emmy Lou Harris
O'Brien -- Kate Walsh, Patton Oswalt and Brad Paisley
Advantage: Leno, who's already had Paisley

Oct. 1
Leno -- Chris Rock
O'Brien -- Michael Moore
Advantage: Leno, who's already had Moore

Oct. 2
Leno -- Jenna Fischer
O'Brien -- John Krasinski
Advantage: It's a draw in battle of love-locked second bananas from The Office.