TV Bulletin Board (July 21)
07/21/08 07:46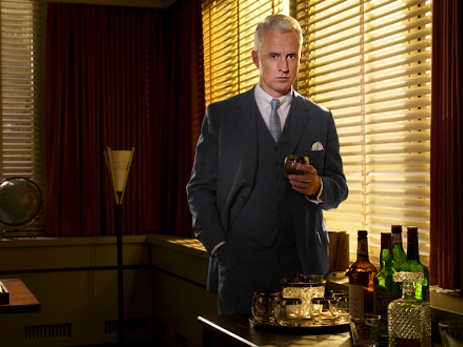 John Slattery drinks to his ill health on AMC's Mad Men.
By ED BARK
Emmy's most-nominated drama series, comedy series and miniseries also cleaned up Saturday night at the 24th annual Television Critics Association awards.
AMC's
Mad Men
, NBC's
30 Rock
and HBO's
John Adams
all received multiple honors while the latter network's Emmy-rebuffed
The Wire
copped a Heritage Award after its final season.
Mad Men
led the way with wins as Program of the Year, Outstanding New Program and Outstanding Achievement in Drama.
30 Rock
won for Outstanding Achievement in Comedy and Individual Achievement in Comedy, with star and co-creator
Tina Fey
recognized.
John Adams
took home trophies for Outstanding Achievement in Movies, Miniseries and Specials and for star
Paul Giamatti
's performance in the title role.
The Career Achievement award went to
Saturday Night Live
founding father Lorne Michaels, who also is co-executive producer of
30 Rock
and brought
Conan O'Brien
to NBC.
Ken Burns'
The War
on PBS was cited for Outstanding Achievement in News & Information. PBS'
Worldgirl
won for Outstanding Achievement in Children's Program.
The Smothers Brothers
opened the show with a performance.
***
Media Rights Capital, which will be programming Sunday nights for the increasingly little-seen CW network this fall, has announced the four series it will put on.
Surviving Suburbia
is a family sitcom starring
Bob Saget
. No one else has been cast yet.
A one-hour "dramatic comedy,"
Valentine
, is about a family of Greek Gods, the Valentines, "whose purpose is to bring about the rare, strange and often hilarious thing called love."
Jaime Murray
, who played the evil temptress Lila on Showtime's
Dexter
, is the biggest name in the cast.
The one-hour
Easy Money
features
Laurie Metcalf
and
Judge Reinhold
in the saga of a family-run high interest loan business.
And the reality series
In Harm's Way
will spotlight "brave individuals who risk their lives in a multitude of life-threatening jobs."
Perhaps you're asking, "Why bother?" Good question.
***
NBC Universal-owned Sci Fi Channel plans to present 36 made-for-TV action movies next year. That's 11 more than this year.
Titles include
Malibu Shark Attack
(with former
LaFemme Nikita
star
Peta Wilson
);
Hellhounds
(directed by
Rick Schroder
);
Lost Treasure of the Grand Canyon
(co-starring
Shannen Doherty
, who also will guest star on CW's new
90210
series);
Phantom Racer
(with
Greg Evigan
) and
Lake Placid 3
.
***
The Oxygen cable network, also now owned by NBC Universal, says it's going to launch
Dance Your Ass Off
next year.
The reality-competition series will feature "talented, full-figured contestants who struggle with their weight and dance to unleash their inner thin," Oxygen says. "Losing weight has never been sexier or more fun."
Um, let's just leave it at that.