TV Bulletin Board (Tues., Oct. 16) -- Amy/Tina should add patina to Globes
10/16/12 14:21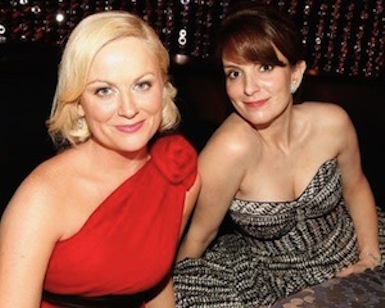 By ED BARK
@unclebarkycom
NBC and the Hollywood Foreign Press Association have kicked their Ricky Gervais habits -- for the moment at least -- and named Peacock gal pals Tina Fey and Amy Poehler to host the 70th annual Golden Globe awards.
They respectively star in NBC's
30 Rock
and
Parks and Recreation
and also have memorably played Sarah Palin and Hillary Clinton in
Saturday Night Live
sketches.
The Globes are scheduled to air Sunday, Jan. 13th on NBC.
***
HBO has announced the Season 2 return dates for
Girls
and
Enlightened
. Both will be back on Jan. 13th with 10-episode sophomore years.
***
AMC's Oct. 14th Season 3 premiere of
The Walking Dead
slew everything except NBC's
Sunday Night Football
.
Its 10.9 million viewers for the first 8 p.m. (central) airing more than doubled the audience for
TWD
's Season 2 launch. And a very high percentage of those viewers -- 7.3 million -- were within the 18-to-49-year-old advertiser motherlode.
In fact,
TWD
had more viewers in that prized demographic during the week of Oct. 8-14 than broadcast network hits such as NBC's
The Voice
, ABC's
Modern Family
and CBS'
The Big Bang Theory
.
***
Today's
desperation is showing. Now clearly No. 2 behind ABC's
Good Morning America
in the A.M. pecking order,
Today
plans to spring hosts Matt Lauer, Savannah Guthrie, Al Roker and Natalie Morales on unsuspecting new American citizens during a Nov. 12th swearing-in ceremony. The quartet will be the first to congratulate 30 newbies as part of what NBC is calling "an historic television event." Anyone who asks, "Where's Ann Curry?" will immediately be deported.
***
Fox has renewed its animated series
Bob's Burgers
for a fourth season. And NBC again has topped the 18-to-49 ratings in Week 3 of the new fall season -- making it three times in a row for the resurgent Peacock.
The network's
Sunday Night Football
is its driving force in this key demographic. But NBC also is doing well with
The Voice
and two new series,
Revolution
and
Go On
.
CBS still leads the season-to-date Nielsens in total viewers by a commanding margin over its broadcast network rivals. ABC has dropped to last in the 18-to-49-year-old measurement, trailing NBC, CBS and Fox in that order.
unclebarky@verizon.net